I love a good print fabric...but less so the possibility of someone else turning up to an event in the same print! It's why a lot of designers will design their own exclusive prints and fabrics and/or buy up a whole roll of fabric from the suppliers to ensure no other designer will use it.
For my Aussie readers, who can forget this famous
Lisa Ho
petal dress (circa 2006 I think?) which was the hot dress of Summer and worn by Bec Hewitt and a tonne of other celebrities. I remember girls going crazy trying to find one in their size.
So I was a little disappointed to see this Wayne Cooper dress (and a few others in the same fabric) in stores the other day:
Looking similar to this
Marc Jacobs
original: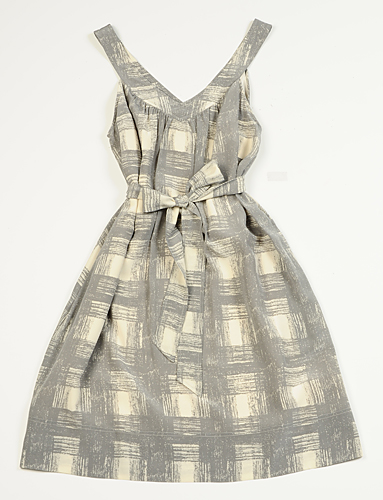 This particular Marc Jacobs dress is from his 10th anniversary collection which is awesome; He basically did a re-run of some of his most popular dresses from way back when. I have a beautiful dress in this same print but in a more heavy weight taffeta fabric and in a bustier style...it is so lovely!
I'm probably one of the few Australians who actually likes Wayne Coopers clothes - they're always simple and easy to wear and he has great evening styles, not to mention I know exactly what my size is and it always fits me
perfectly
. But even so, I was a little more than disappointed when I realised I probably couldn't wear my Marc Jacobs dress to any up-coming Christmas parties for fear of someone else coming in the same print!
Has anyone else seen any copycat prints lately?
Images thanks to In Style, waynecooper.com.au and Vogue.com.au