I've dined at the uber hip and happening
Hartsyard
twice in the last 3 months or so, which is quite an achievement given it is so popular now it can be ridiculously difficult to get a reservation (even on a weeknight!)
The first time I went was just as a table of 2 which meant I wasn't really able to try a lot of the dishes, which are designed to be shared as a 'seed' and 'feed' approach for dish sizes which roughly line up with an entree and main type size. We ended up overordering and walking out stuffed.
Last week I went again but this time was smarter about it, dining with a group of 4 and trying not to overorder so that I could at least try dessert this time, which is their signature! And who am I kidding, I love me a good dessert. Their smaller 'seed' sized dishes are my favourite, with each and everyone sounding amazing. Here are some iPhone pics (I've been lazy lately haha!)
School prawn popcorn with espelette pepper and sour cream and lemon
These were finger licking good and such a good 'appetizer' type starter - great to start the meal with some light finger food while we chatted away.
Oyster po-boy with englihs muffin and old bay mayo and slaw
Yummy, crispy, perfectly balanced flavours. Need I say more?
Fremantle octopus with potato skins, white corn and piquillo peppers
This was a gutsy dish which I actually really enjoyed, with the octopus perfectly crunchy (not chewy!)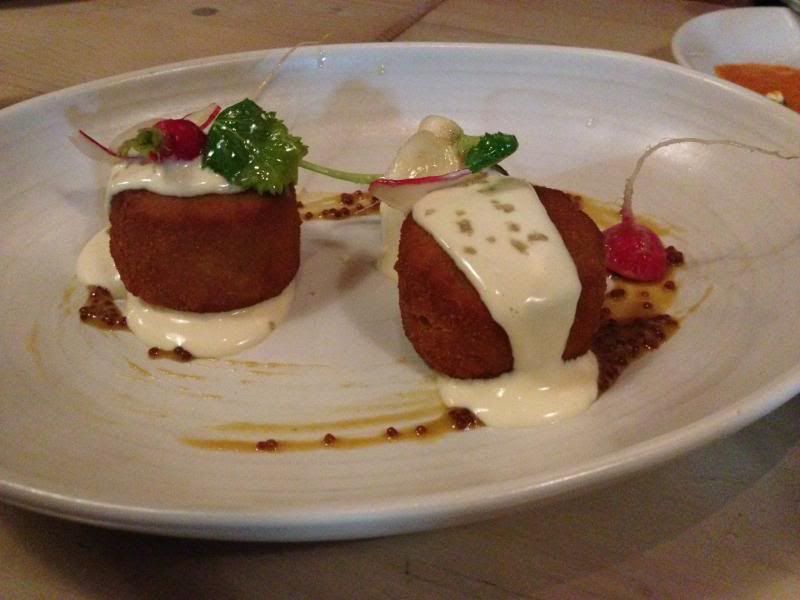 Crispy pig tails butter milk dressing, pickles and hot sauce
So this wasn't exactly what I was expecting, but still tasty. Would I order it again? No, but it was definitely well executed.
Dessert special - lemon meringue pie with popcorn icecream and caramel
This was AMAZING! Perfect mix of soft and crunchy meringue, a zesty lemon curd with the popcorn ice cream absolutely amazing too. Every single item on the plate was well presented, and accompanied every other element on the plate perfectly.
Soft Serve of the day - red velvet, baked cheesecake and chocolate coating
This was also amazing - I mean these are their signature desserts, just with the soft serve flavour changing regularly. The camera has been put in the photo in the background as reference for just how large this was! It was definitely better to be shared as the red velvet ice cream was a rich dark chocolate that came out looking bloody because of the inky red velvet colouring and slight flavouring.
As you probably already know, desserts are my weakness so any restaurant that can nail a good dessert is a winner for me. I would definitely suggest you try Hartsyard if you get the chance, but make sure you go with a group! Their cocktail menu is also great, and I don't think Hartsyard is uber expensive either so that's definitely a plus :)