I checked out
The Rabbit Hole
the other day - its a new restaurant and bar concept that has been open for about 6 months (I think) and claims to have a L'Astrance trained chef at the helm! I went to L'Astrance last year and so I had high hopes for this place, considering the prices were decent.
Anyway, they don't do bookings on Friday night so we rocked up to find an apparently very long list of people who were waiting. Turns out they had a Groupon type deal expiring that weekend so of course it was just our luck that we were fighting for a table with all those people.
Because we weren't dining on the discounted deal, they very graciously seated us earlier and after chatting to the owner for some time she told us the table was actually meant for her father but he had decided to give up the table. +1 on the service thus far! +1 also on the friendliness of the staff thus far!
Anyway, they have a bar menu which looked cheap and cheerful but we went for the full menu. I didn't have either of my two better cameras with me that night so iphone photos will have to suffice....
Entrees I don't have good photos of - at around $16 each they were beautifully presented, tasty and a decent size. We ordered the scallops and the tartare and the flavours were all great and I could very much see the French training in the mastery.
This was my main that I ended up choosing because they claimed the gnocchi which I had originally wanted was sold out. We did see it go out to tables later (the ones with the deal) so we were a bit annoyed because we really wanted that gnocchi and it clearly wasn't sold out! Also with the gnocchi off the menu, it really didn't leave any vegetarian choices... Anyway this was the blue eye cod that the waitress suggested because its spectacularly presented. To be honest, I expected more after that description but the serving size was generous and the fish perfectly cooked so not too bad for $30 by Sydney standards.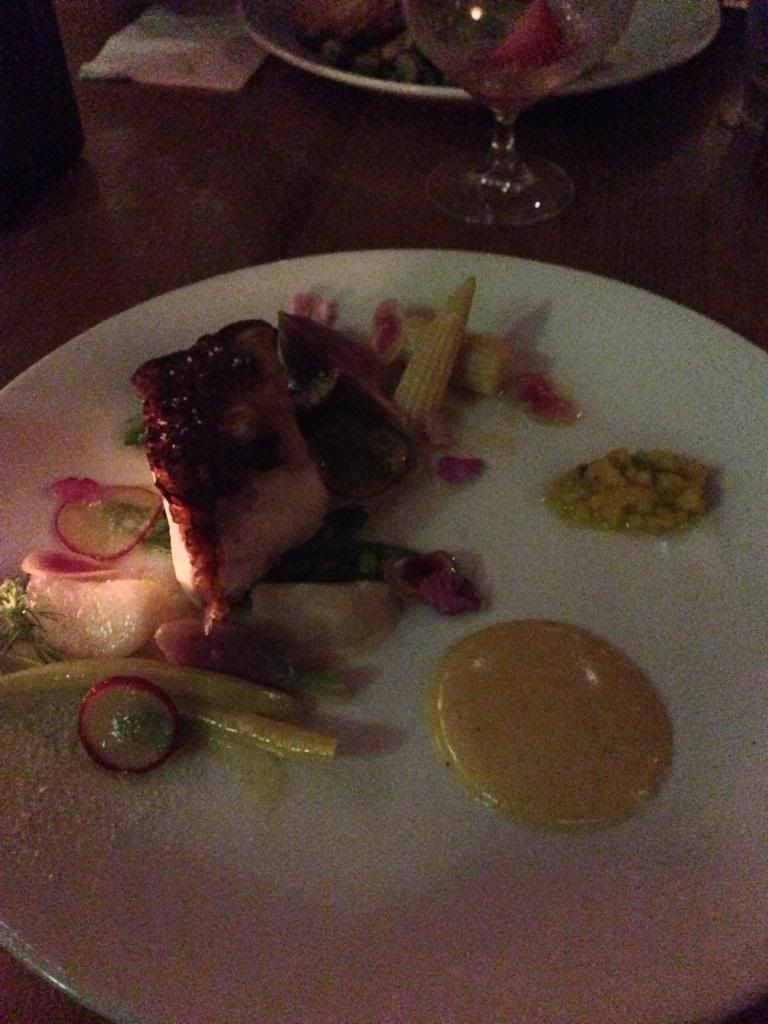 Now desserts were interesting...we ordered this deconstructed smoked pineapple brulee ($19) which was disappointing because the flavour balance was just a little off. At first we were wondering why the dish had a distinct after taste of meat (like bacon!) which wasn't very pleasant. By then a different (not so helpful) waitress was serving us and tried to snobbishly explain to us that it was smoked and that's just how it tastes, judgementally saying "you just don't like it?". Well, no, its not about liking, its about the fact it tastes like it was made incorrectly. As we tasted it some more we could understand the smoking technique explaining the after taste but even so the chef needs to work on this a little we think!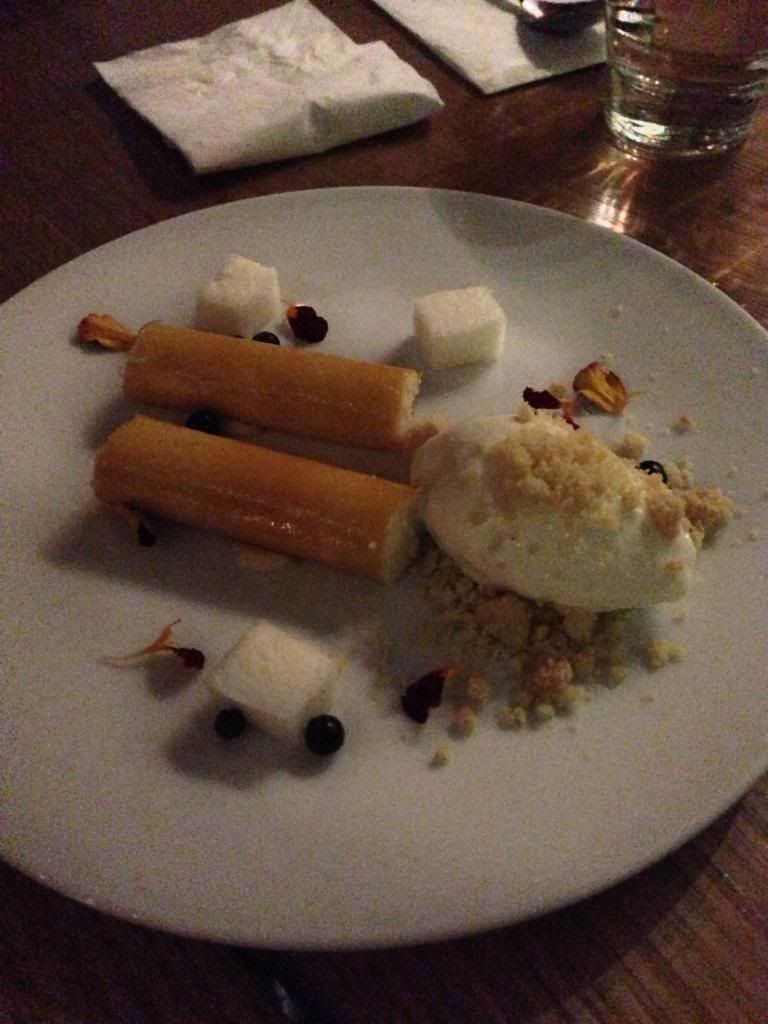 We also ordered the chocolate fondant which was to the standard expected, thankfully!
Its interesting because despite the slow service towards the end and the dessert issue, some of the friends I dined with said we would perhaps go back. The pricing for the serving size is very good for Sydney and its filling a niche that Sydney is missing in terms of fine dining without the pomp and circumstance. The bar looked great as well for a casual catch up with friends over nibblies! Will I be back...not in a hurry but perhaps as they work through their teething problems it may improve.