If you follow me on twitter you would know I made another
iHerb
order a month back which involved
more
Real Techniques
brushes and a few other tidbits!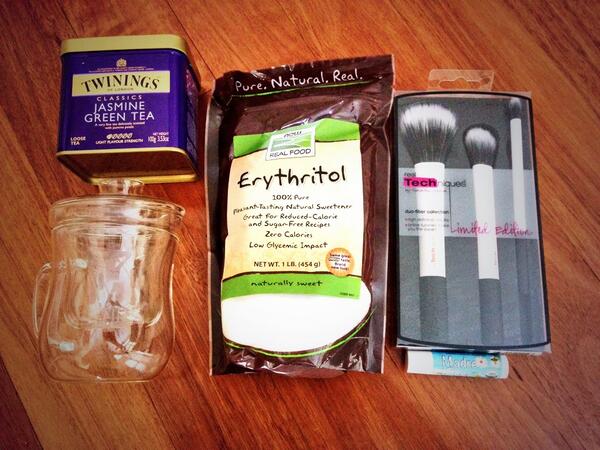 The
Real Techniques
brushes had previously been sold out so I thought I would snap them up now, despite there not being a 20% discount code or anything like last time. I didn't really need them and so I probably shouldn't have bought them, but seeing as I'm lazy with cleaning my brushes I thought just rotating the use of my brushes was a good compromise. I may start using the powder brush more but I don't like it as much as the others I bought previously.
Anyway, my favourite of the lot is the infuser + lid glass tea cup which is fabulous! It was on super discount so it was only $7 from memory, and there is a glass infuser inbuilt which then sits perfectly within the teacup lid when you're done steeping your tea. I love it because I often want a single cup of tea and don't want to have to waste a whole pot, plus this goes in the dishwasher!
The erythritol is my sister's request - apparently its a replacement for sugar? She's all into her health foods!
Don't forget to check out
iHerb
and use the discount code
RLN426
to get at least $5 off your order ($10 if you spend enough).