I've been promising this post for ages but in February I visited
Universal
in Darlinghurst for what would be a first and final meal there as Christine Mansfield has sadly closed her famed restaurant last month. It was also a bit of a belated birthday celebration for me (they had a private function on my actual birthday so I sadly couldn't dine on that day).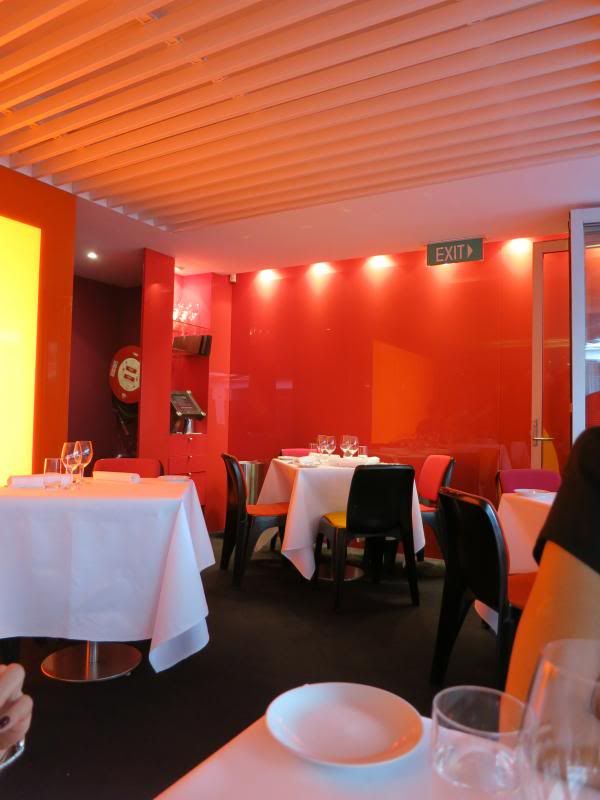 I had never visited previously because a lot of people say its quite expensive and the portion sizes small. Well, my verdict on that later.
Here are some photos not taken with my S100 (hence the awesome macro) but I took the photos quickly as I just wanted to tuck into the food. First up, cocktails yum!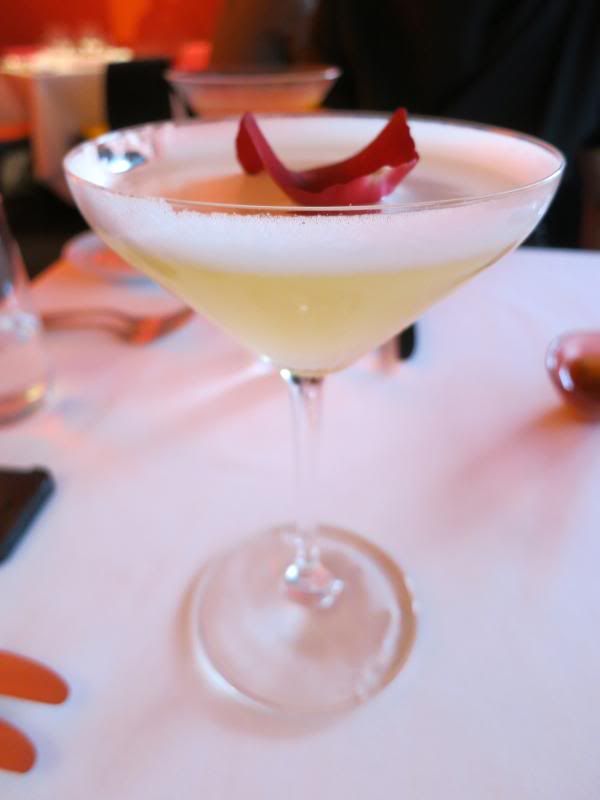 The menu is setup such that there are savoury then sweet 'courses' which are more like small tasting plates so it was recommended that each person would eat 3-4 savoury, 1 sweet to be full. They are priced about the same as a base main course price point. Having read/heard that the courses were small, I was expecting degustation sizes but they were actually quite generous, I would say they were all entree+ sizing (but then again, I am not a huge eater). Amongst 3 of us, we made sure we all ordered 3 different courses each allowing us to try as much as possible.
One thing that I can definitely say about my meal at Universal was that every single dish was well balanced, absolutely popping with flavour and east meets west inspired but with subtle twists and underlying flavours which were just exquisite. Seriously technically amazing stuff. I'll let the food pics speak for themselves :)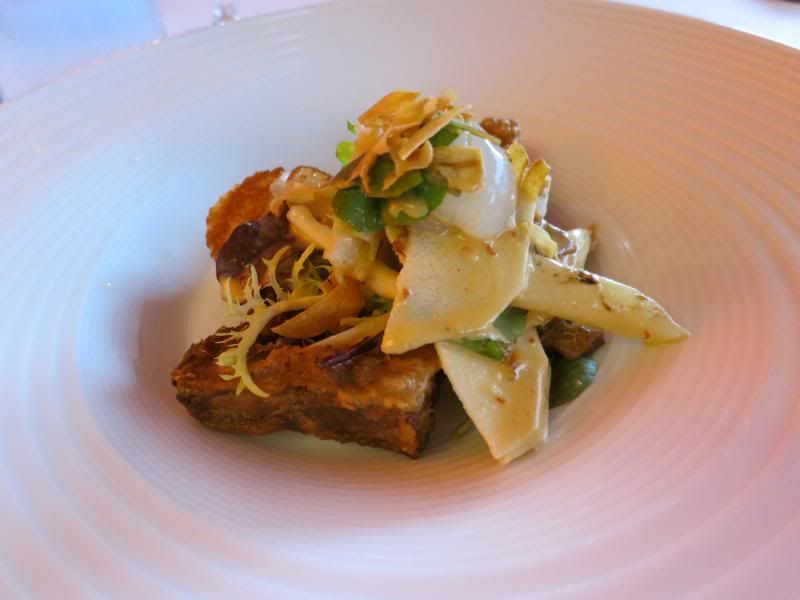 Sichuan spiced duck, seared sea scallops, asparagus, lychee, smoked eggplant sambal ($32)
This was crispy, asian inspired with the sambal and lychee and absolutely delectable. As you can see, the duck serving was actually quite generous!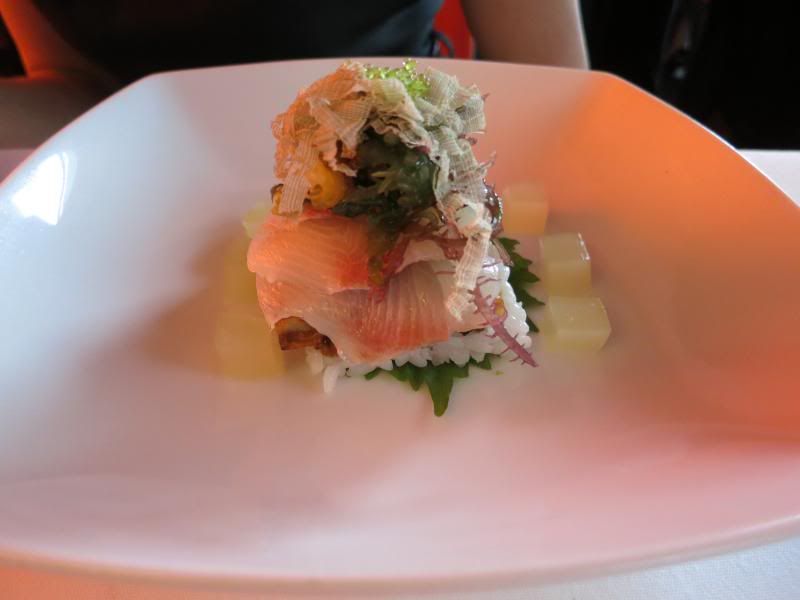 Hiramasa kingfish sashimi, sweet grilled eel, pickled seaweed, shiso and finger lime salad, yuzu jelly ($30)
I LOVE yuzu and sashimi and this was like a perfect summer salad. The eel added some charred flavour to the mix which went well with the salad items which by themselves would probably be too overpowering but all together was delish.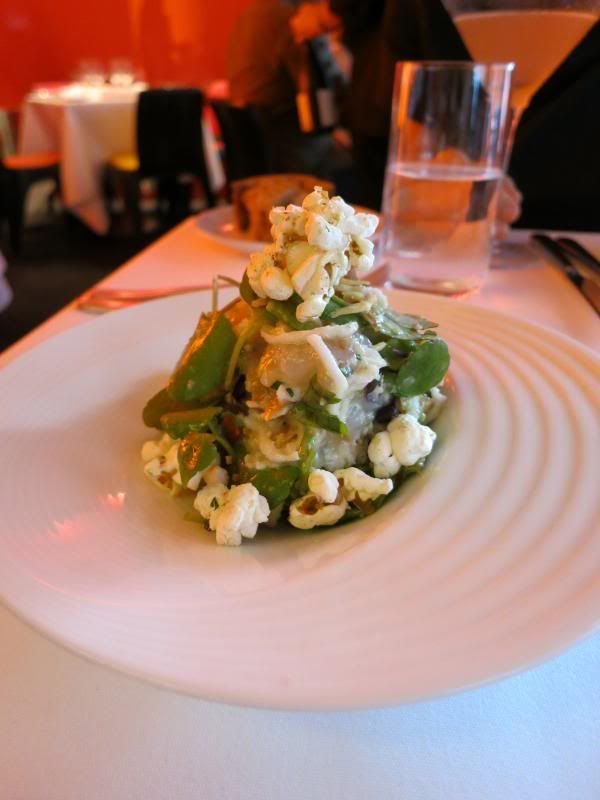 Prawn and coconut ceviche, green chilli salsa, palm sugar, popcorn ($30)
Now doesn't this dish look fun? It was like an asian inspired ceviche, but with popcorn that added texture without overpowering the dish. I hate dishes that are overly spiced but this was definitely spicy enough without going overboard.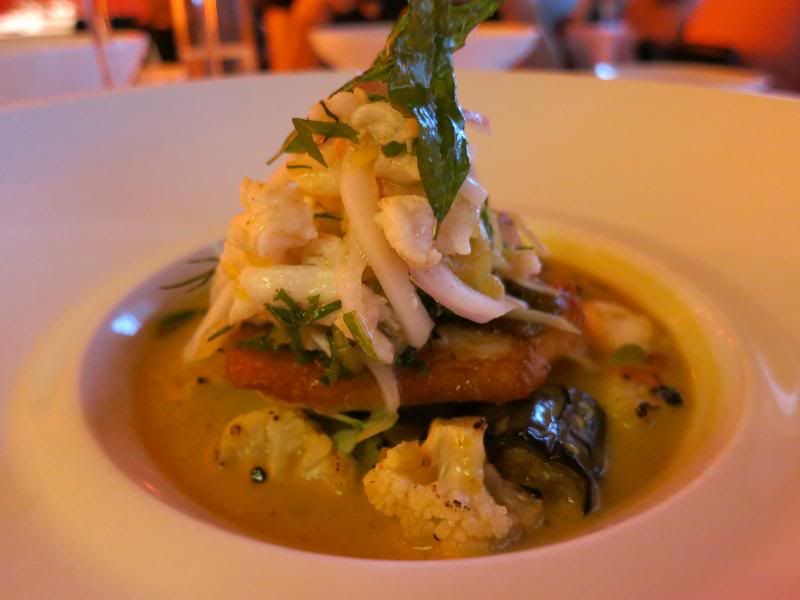 Roasted john dory, spanner crab and mint salsa and spiced coconut ($32)
I hope I got this dish name correct - anyway this dish was not as I expected but turned out to be really great. The curry like dish took me to an indian malaysian diner in flavour, but with fine dining quality ingredients. Hearty and warming, but not too heavy either. This turned out to be one of the fave picks from my dining companions.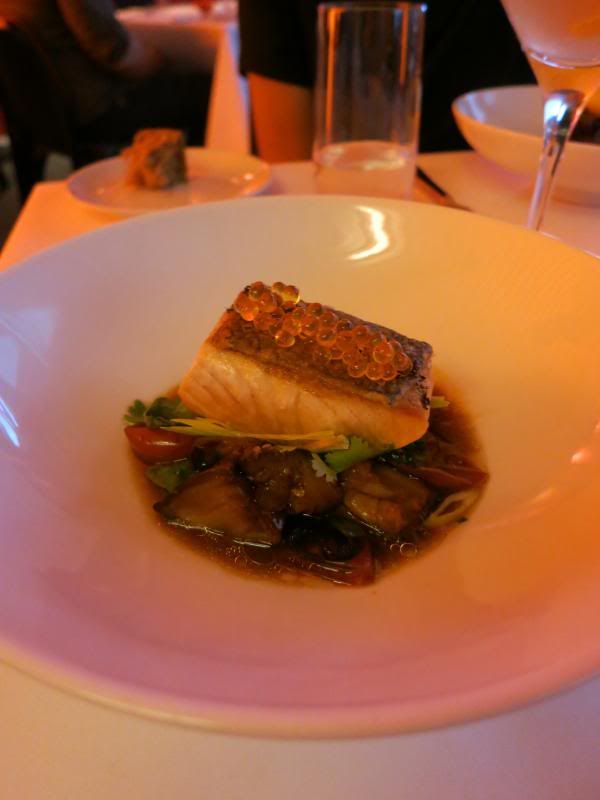 Seared ocean trout, steamed garlic eggplant, caramelised cherry tomatoes, ocean trout roe ($31)
I'm going to be honest here, this wasn't my menu pick so I don't actually remember this too much. Look at that roe though!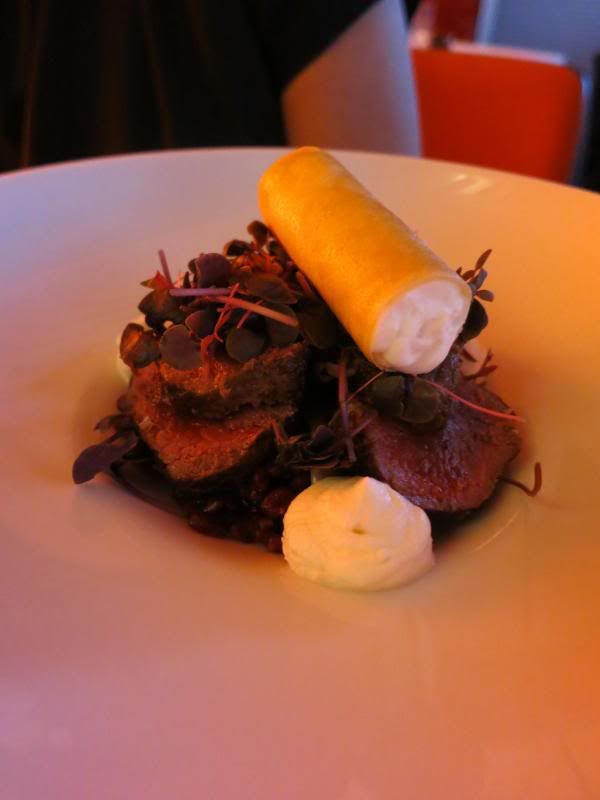 Rare roasted venison, beetroot and horseradish spelt risotto and goats cheese cigar
($31)
This was one of my faves by far - the spelt was seriously amazing. Each grain was soft and succulent without being mushy and the venison absolutely perfectly rare. But see, I'm a red meat obsessee so maybe that's why?
Onto desserts!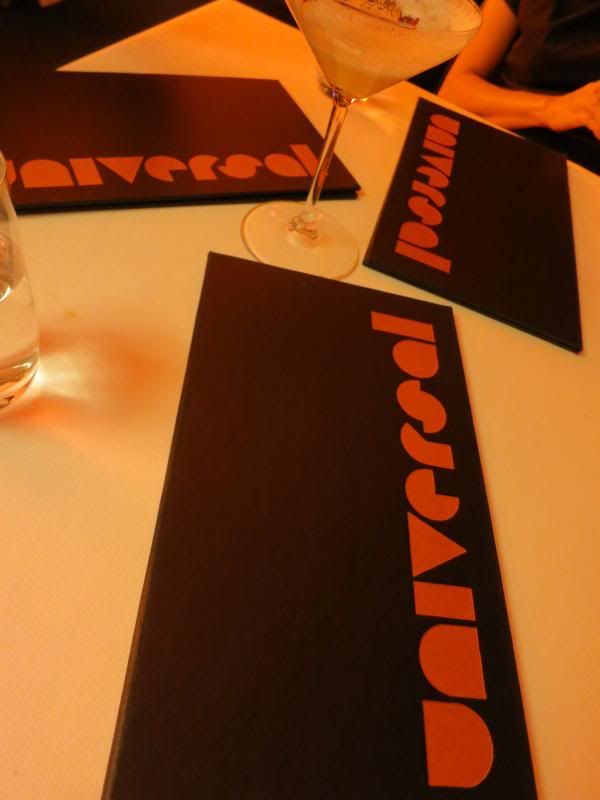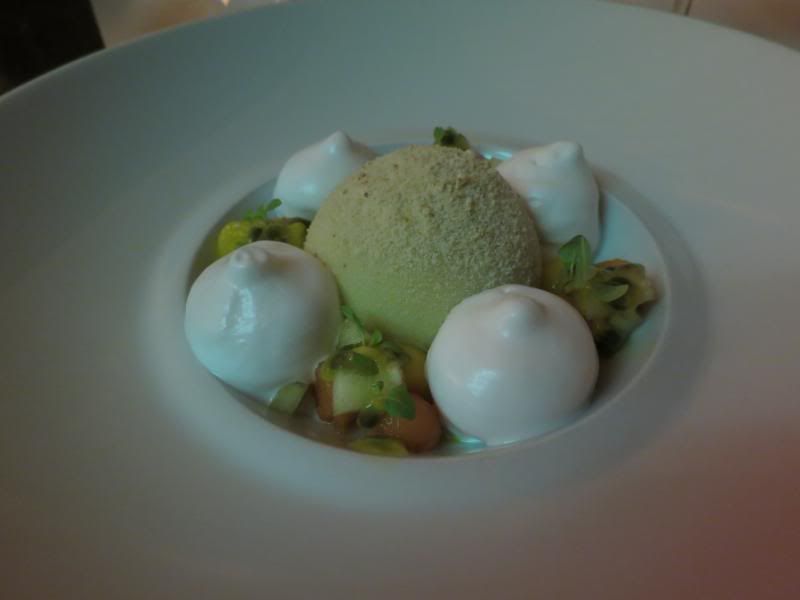 LIttle Miss Sunshine - passionfruit, banana, yoghurt sorbet, coconut clouds, pineapple, mango and red papaya ($20)
I love anything with meringue and passionfruit and this was like a summer fruit explosion in your mouth. The sorbet in the middle was light and balanced out the sweet fruity flavours!
Gaytime goes nuts - honeycomb icecream, caramel parfait, chocolate crunch , salted hazelnut caramel ($25)
This is Universal's signature dish so we had to get it, plus who doesn't love a Gaytime ice cream. This was seriously awesome! The detail and effort to making it really shows when we cracked it open as you can see in the second pic. Of course it was quite sweet (but not overly so) but as we were all sharing it worked well.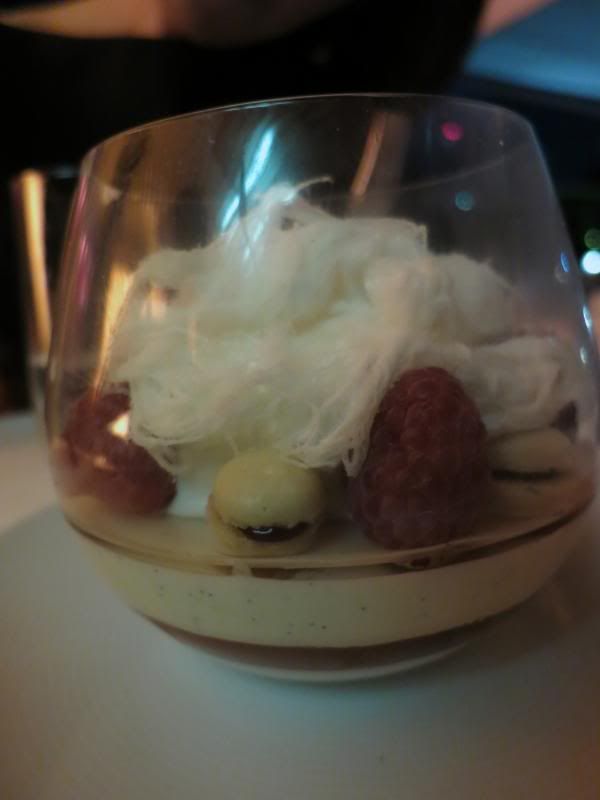 Madame pompadour - white peach curd, strawberry cream, strawberry meringue, buttermilk sorbet, raspberries ($20)
Now I wasn't a big fan of this dessert (while I know others rave about it) but thats probably because I'm not a big fan of curd. The mini macarons were really cute though!
So my overall verdict? Seriously amazing. One of the best meals I've had in Sydney and it is such a pity it has closed as we definitely talked about wanting to go again. We contemplated trying to fit in another dinner there before closure but that seemed too greedy! The reason it was so good was definitely due to the creativity, thought and balance of flavours. It is one thing to be fancy and all gastronomically crazy but its another to execute with subtle creativity and this is what defined it through and through!