I made a second order with iHerb recently when they had the 20% off
Real Techniques
brushes which I blogged about a few weeks back. I had credit to spend so my haul came to a grand total of $8 including postage which is bargain bargain bargain if you ask me!
I forgot to change the f stop on my camera setting so the photo is a little blurred but you get the idea!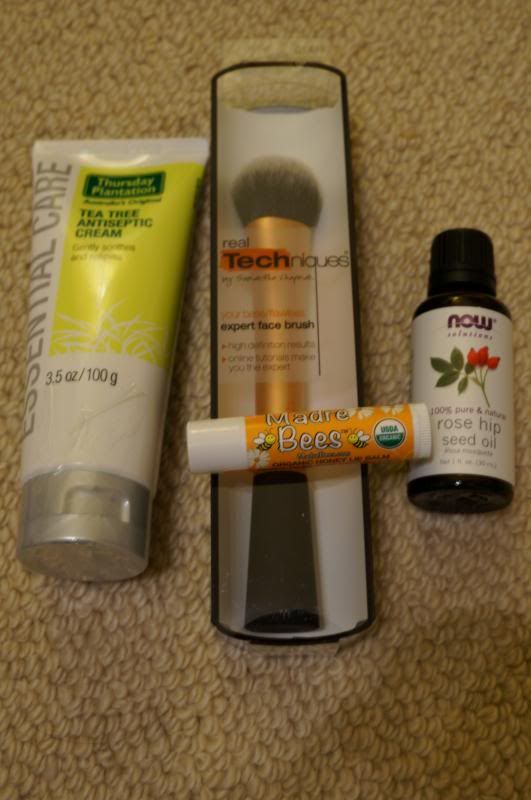 It is pretty ironic that I ordered the Tea Tree oil antiseptic, a product from Australia, and had it shipped from the US. It cost US$8 from memory and I've never actually seen it in stores here (not that I've tried hard to look) but my threading lady uses it on me and I quite like it. Then again, I love anything tea tree oil related!
The middle is the
Expert Face
brush which people rave about though I haven't started using it. I think I'll use it for my liquid foundation to see how it fares against the stippling brush. I've been using
BB cream
more recently instead of foundation though so for that I've just been using a normal flat foundation brush.
On the right is cheapo US$5 rose hip oil. I get the feeling (based on colour) that this stuff is not very potent, but I wanted a cheapie to use on my body rather than wasting my expensive
Trilogy
stuff.
And finally in the middle was a freebie - a lip balm that I thought might be handy. It was free anyway!
Remember if you want to order at iherb use the discount code
RLN426
to get $5 off your order or $10 off if its $40+.