So I've been back for a week and I've unpacked in that haphazard way I always do to just have things 'out of sight, out of mind'. Well now I've got some time to actually sort through it so I thought I would do a post about some of my shopping.
Shoes have and always will be my weakness. Whenever I go into department stores, chain stores or really any store, I'll always go straight for shoes. Something about browsing shoes is just so much easier and better than browsing racks of badly hung and merchandised clothing.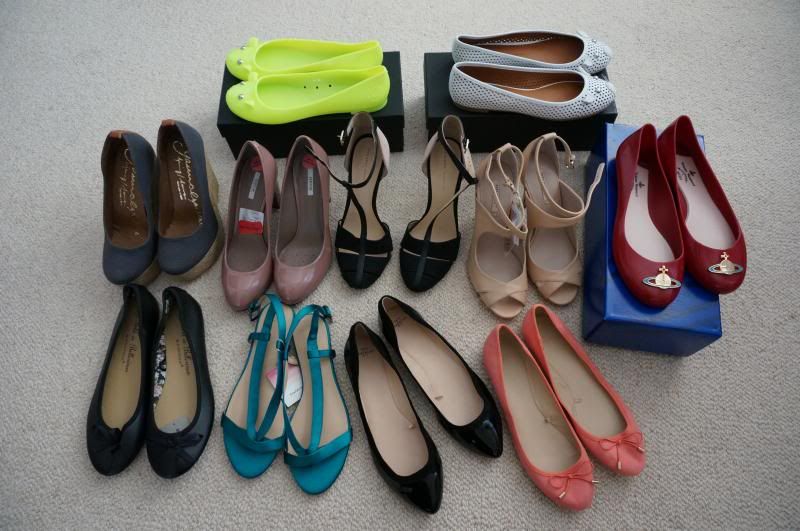 Anyway this pic includes shoes my sister purchased but yes we carried back all these shoes back on our trip, plus all our other shopping goodies. We travel with quite small suitcases (most would call them the medium sized ones) so the amount we managed to stuff into our suitcases is quite a feat!
My shopping on this trip was very low-mid end range, rather than focusing on the high end as I normally would. Partially it is because I was looking for some fun fashion purchases to just colour my wardrobe without wanting to spend too much as I am meant to be saving at the moment!
The best purchases would definitely be these
Marc by Marc Jacobs
- they were having 70% off shoes! Even with the prices being more expensive because they were in GBP, 70% off still made it a good deal comparable to sale season in the US.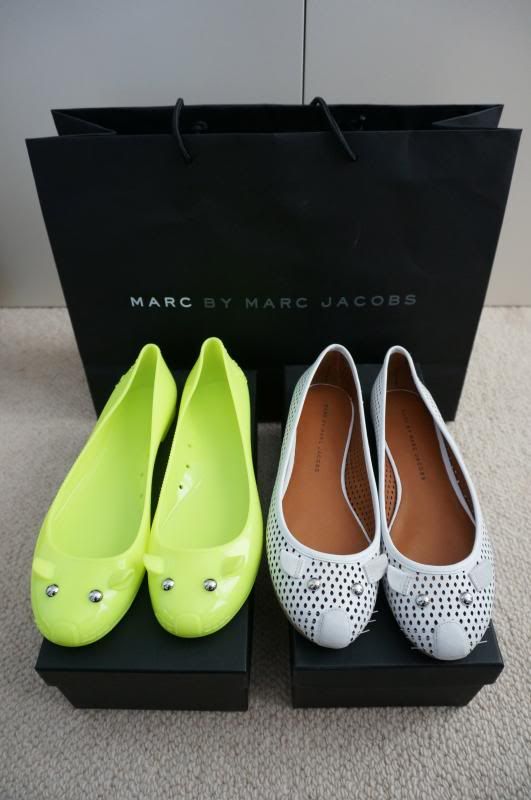 The other good buy was the
Melissa for Vivienne Westwood
orb flats from Liberty London which I ended up having to get a size up because they had sold out. Nevertheless, at 50% off they were a must buy for me! I would have liked them in black, but I do wear and own far too much black.
Oh I must mention I also
love
the T bar
Zara
pink and black suede shoes in the middle. I'm usually wary of buying Zara overseas because we do have it in Australia and
everyone
wears it. But these were love at first sight.