As you might remember I just got back from holiday and as usual when I go to Europe, I try to make a stopover in London to see family. I ate at quite a few places which I will hopefully post about soon, but the first I will post about is the hot spot
Duck and Waffle
in the
Heron Tower
. It is 24 hours (!!!) but it is a funky urban eatery that is blessed with having an amazing view of the London city skyline and the shard due to its location.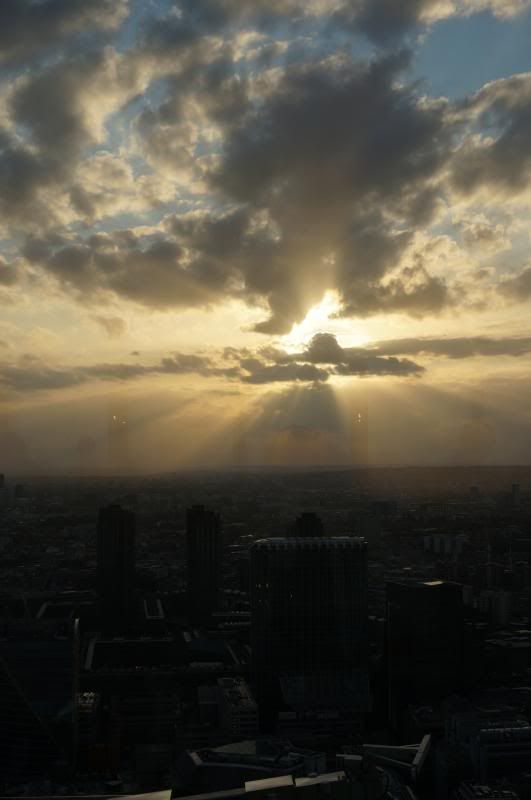 We went for sunset, though unfortunately it wasn't an amazing one (well not a blazing red and purple sky like I often see at home). But never fear, it was still a great view!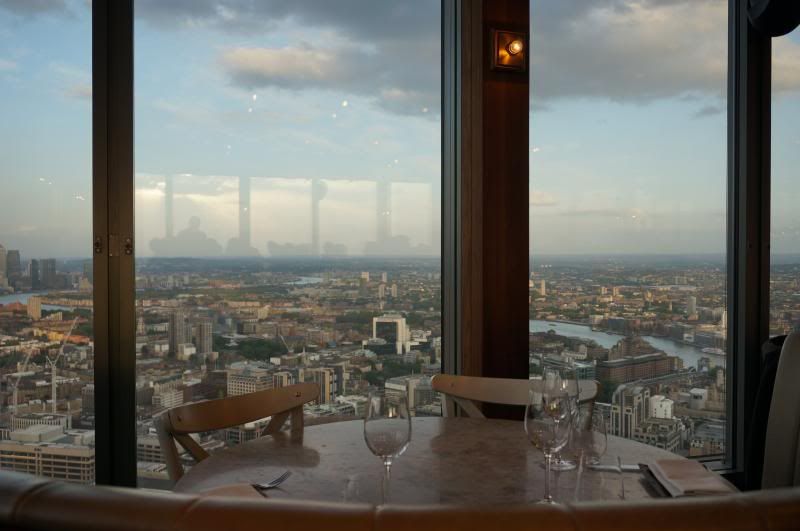 There is a great 270 degree view, including of the Shard. You can see the balcony tables below are at the chain Sushi Samba.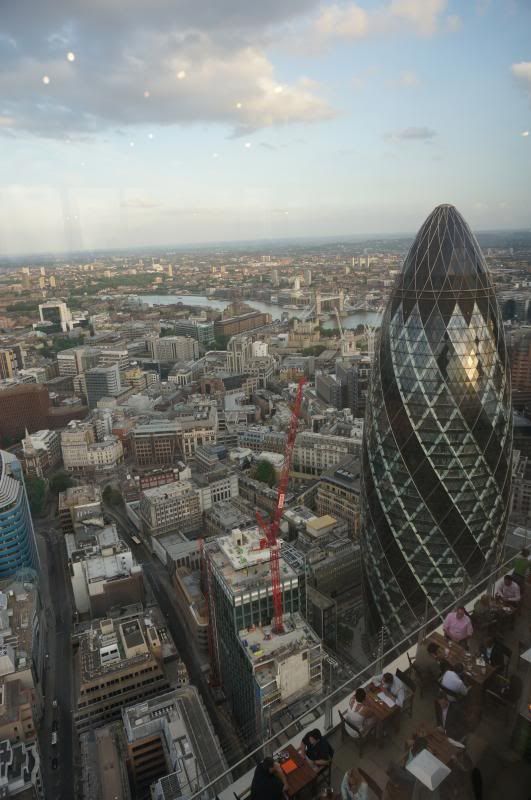 Now finally some pictures of some food!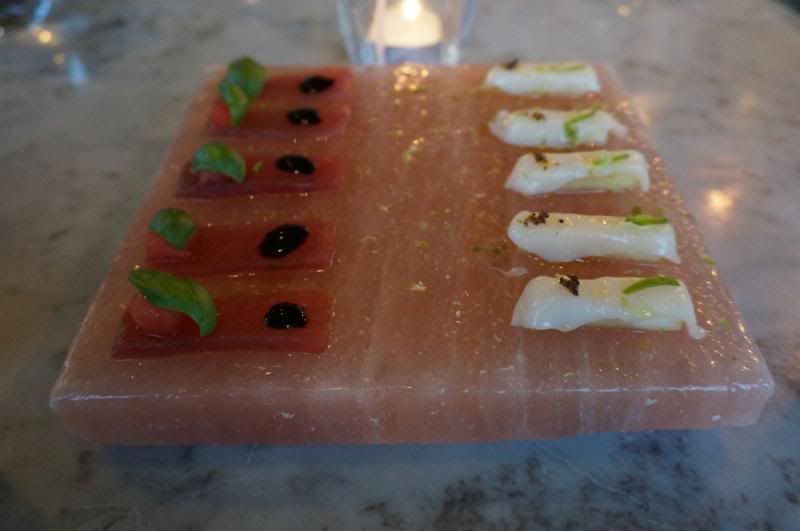 Raw scallops and tuna - this was zingy and fresh which is of course is important with sashimi. Not a stand out though.
Spicy ox cheek doughnut with apricot jam - this was interesting, with a thick doughy outside covering the soft ox cheek meat. Definitely one to share as it isn't something you would want to eat too much of!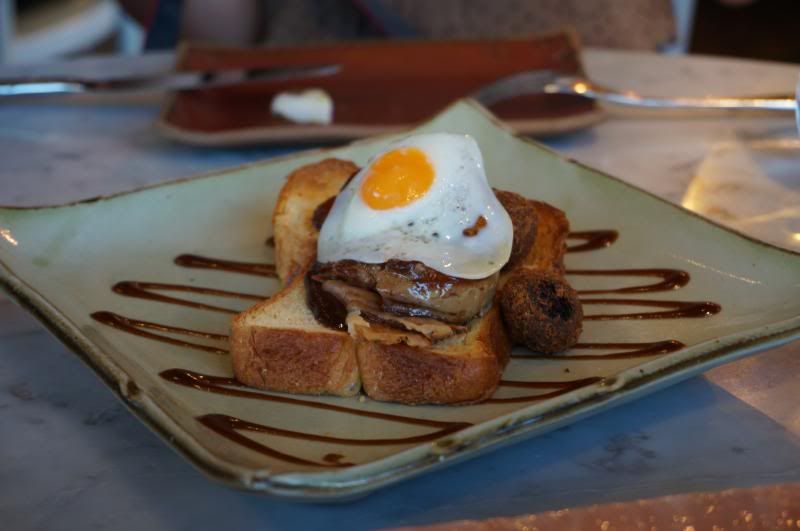 My holiday was full of eating lots of foie gras so this was no exception - the dish is called 'foie gras all day breakfast' and features nutella. This was a great mix but I'd definitely had better foie gras!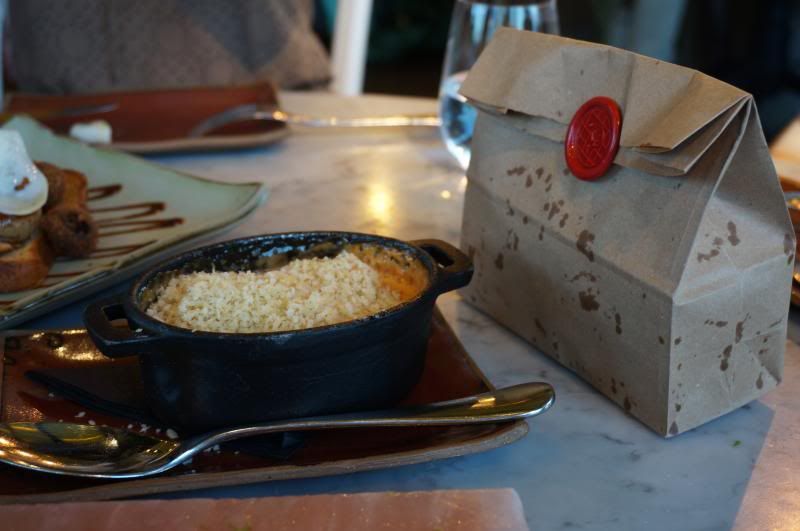 Now my favourite of the share plates - the pollock meatball (lobster cream and parmesan) to the left and then the paper bag filled with bbq spiced crispy pigs ears which were amazing!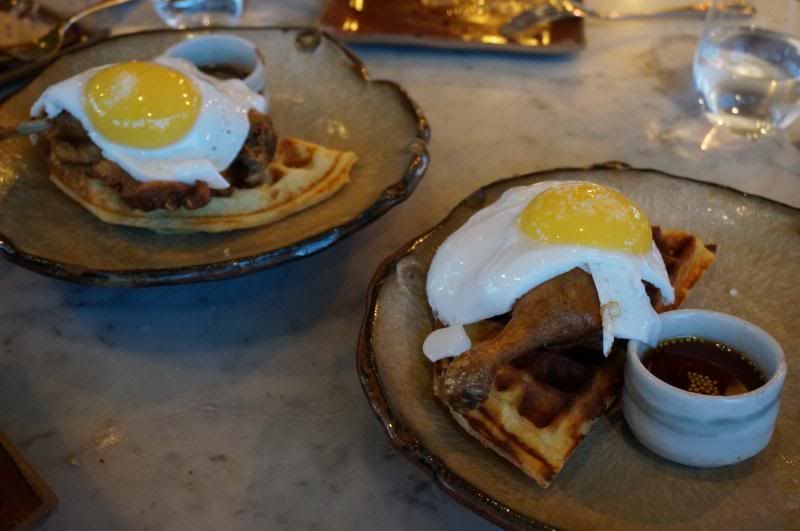 Their signature dish is definitely the above - ducks egg with a crispy confit duck leg and mustard maple syrup all on top of a waffle. This is definitely hugely inspired by the popular dish in the US of chicken and waffle and definitely was cooked to perfection. The waffle perhaps could have been crisper but I think thats personal preference for how one likes their waffle. Definitely one to share!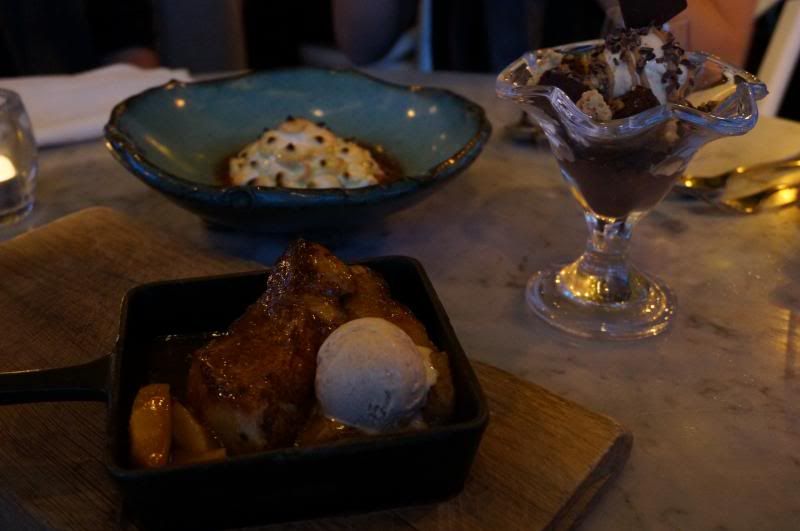 As I'm a dessert fiend, we had a heap of desserts to share. Clockwise from the back was the vanilla baked alaska meringue, dark chocolate brownie sundae then the torrejas at the front which is like a french toast. Definitely my favourite was the baked alaska, but I love meringue. Again these were good, but not amazing.
What's my end verdict - well I think the prices aren't cheap, but the food is decent quality and you really get what you pay for with the amazing view and the fact it is a 24 hours joint! I could definitely see this being as a classier option than McDonalds or a kebab at 3am!
And lastly, this is one of my favourite shots - from memory I tried doing it HDR but the glare of the windows doesn't make it turn out quite so nicely. But still, amazing view over London :)