Recently my sister bought a voucher deal for a degustation at
Galileo
in the
Langham Hotel
(once known as the Observatory Hotel) in the Rocks. For 7 courses, it was 50% off for the normal degustation menu, so only $55 which we thought wasn't too bad a deal when you could often pay that much for a meal at a casual cafe. My sister quickly realised that the deal was being offerred because the once famed chef at the helm of Galileo has since moved on, and so they seem to be wanting to really try and catapult this new chef into the sydney food scene.
We used the voucher on a weekday night and there must have been roaring trade on the voucher as there were quite a few big groups booked. The ambience there is elegant and very old school traditional, which was nice for a change.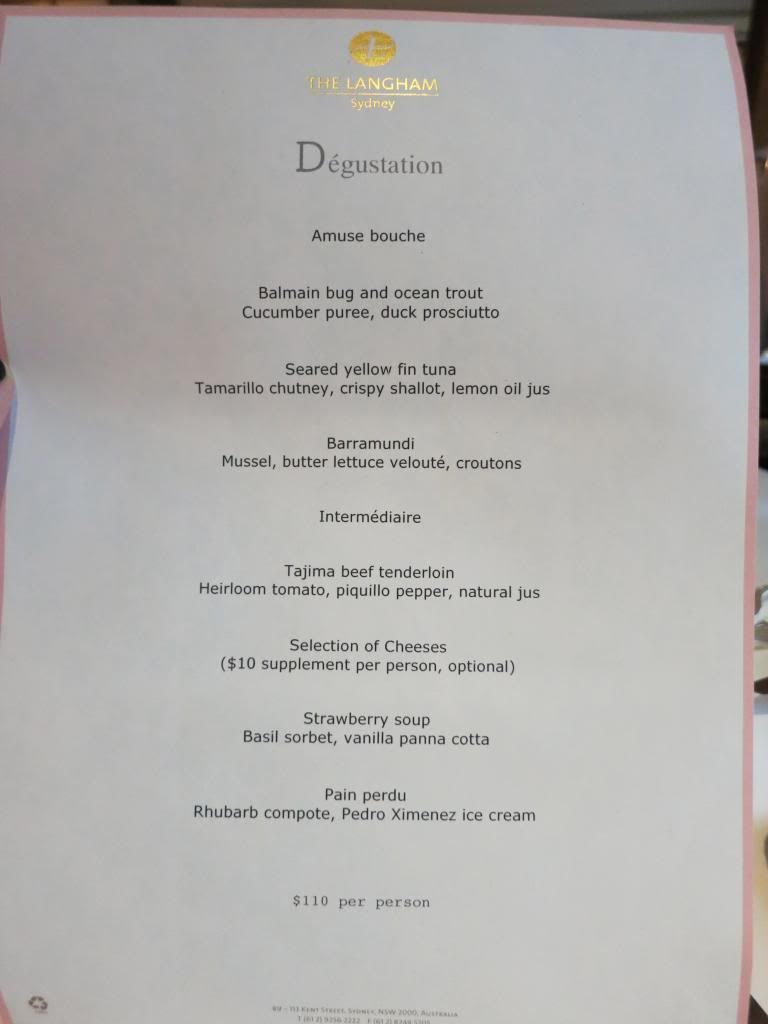 Anyway, onto the main event - the food! Excuse the photo heavy post :)
Our amuse bouche was a prosciutto with cucumber from memory...it was tasty but not amazing. And that really set the scene for the rest of the menu which we felt similarly towards.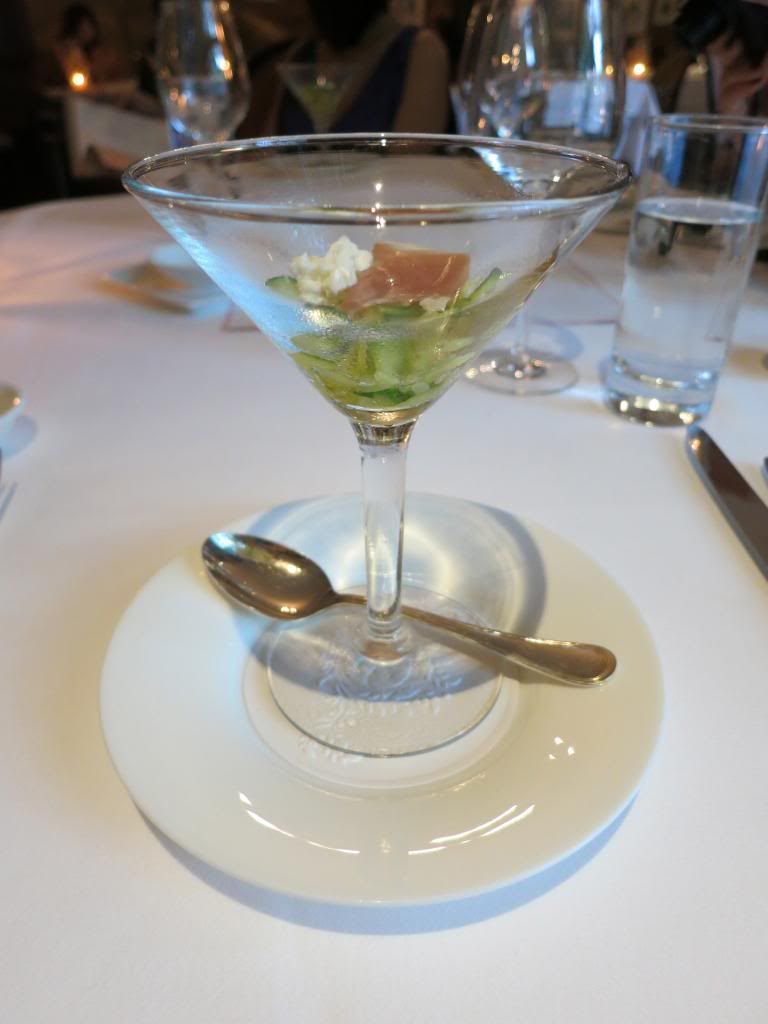 Reading the menu, I was looking forward to this dish because of the balmain bug and mix of seafoods - balmain bug, ocean trout, cucumber puree, duck prosciutto. Pretty to look at, definitely, and the flavours were good but once again not wow. Personally we thought there was too much going on and sometimes less is more, right?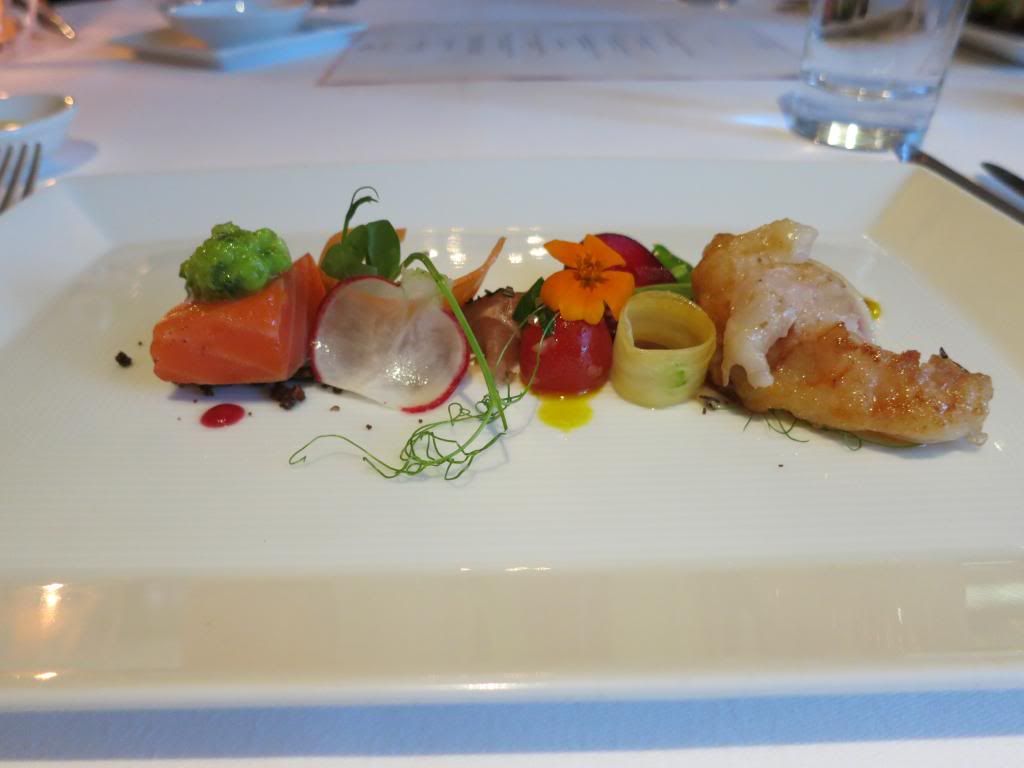 Again, beautiful presentation with this dish - seared yellow fin tuna, crispy shallot and lemon oil jus. I really can't fault the delicate way it was all presented on the plate, and from memory this was probably one of the more balanced dishes. But then again, you can't go wrong with good quality seafood right? As you'll notice as well the serving sizes are quite generous which is definitely a plus for this menu!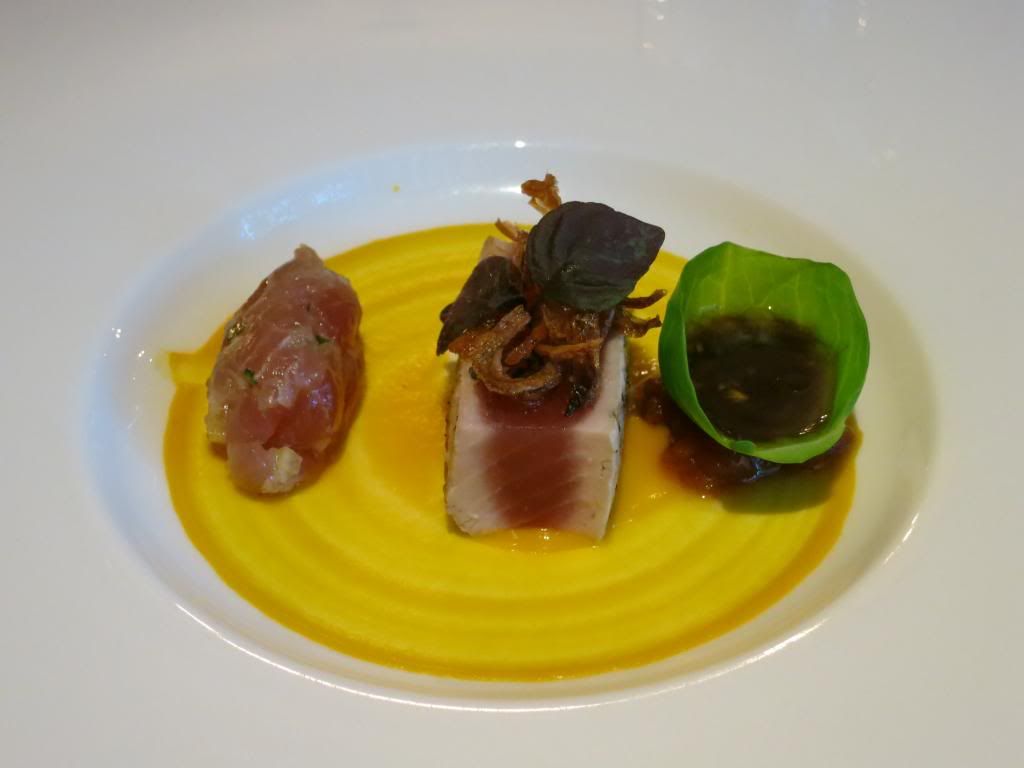 I think the next course - barramundi, mussel, butter lettuce veloute - was one of my favourites. You can't go past a crispy perfectly cooked piece of fish, and again look at the size of the fish which is quite sizeable given it is a degustation menu.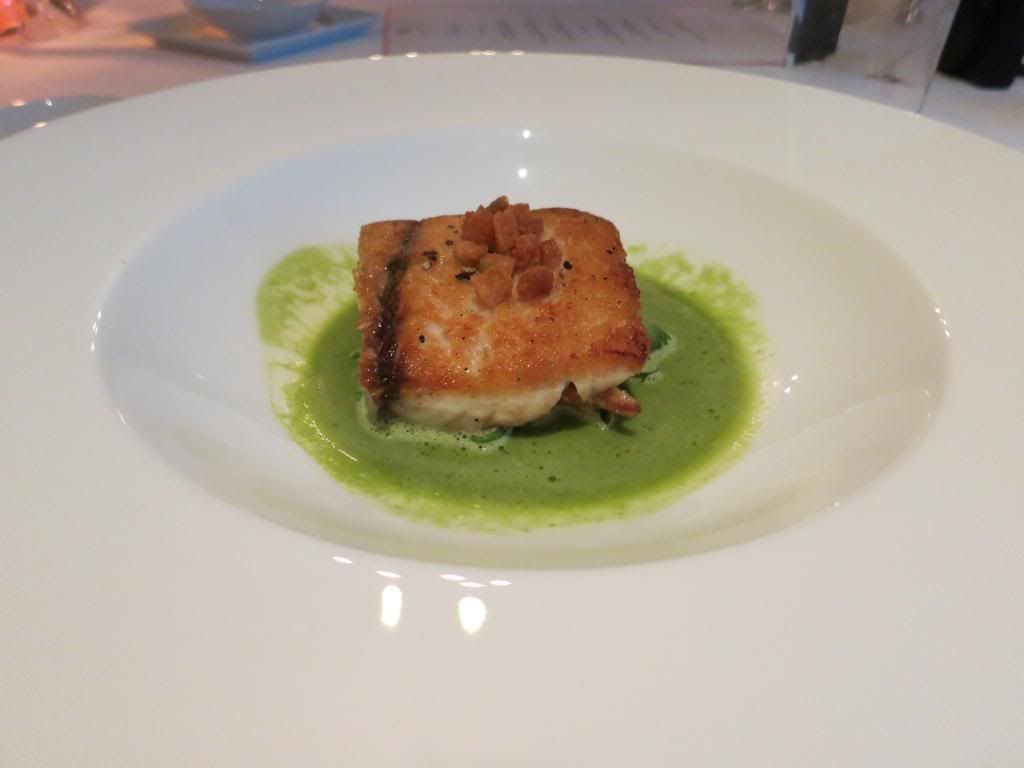 Actually, I really did love this strawberries and cream granita palate cleanser. It is amongst some of my favourite flavours and it definitely was a good palate cleanser, however we thought this would have been better served as a pre dessert rather than a palate cleanser as our next course was still savoury!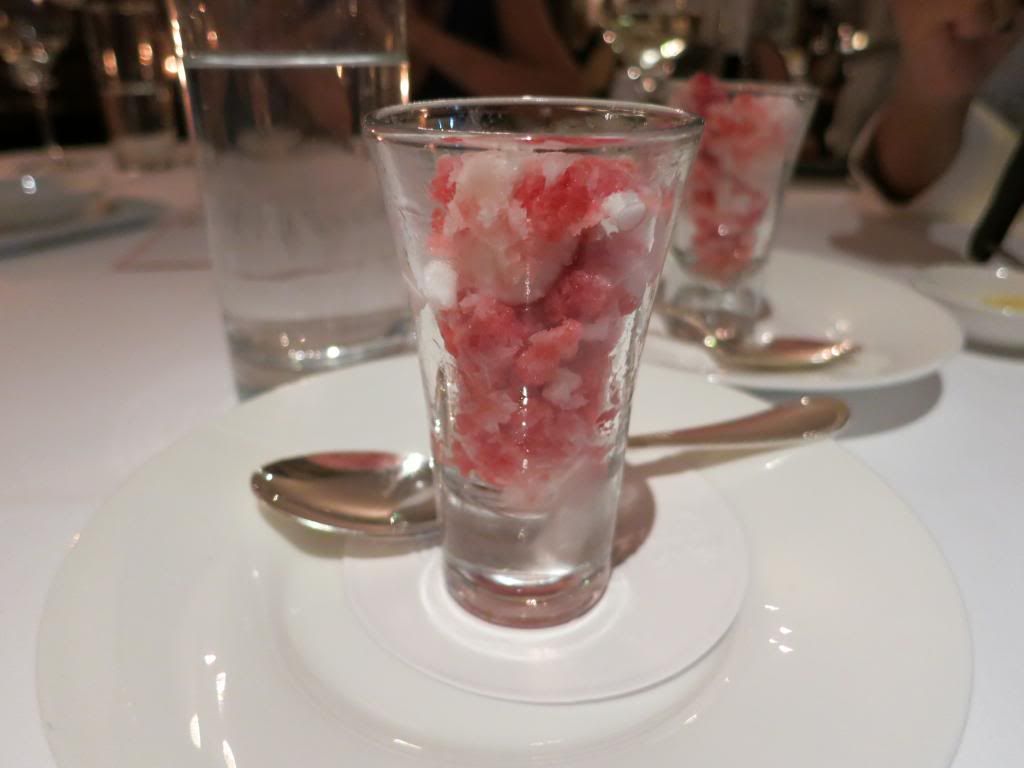 Excuse this photo, unfortunately its not the best because I was hastily taking photos by this stage. This beef tenderloin, natural jus and heirloom tomato was a very 'typical' dish, but beef is one of my favourite meats so I wasn't going to complain. By this stage we were really getting full but I do recall this was perfectly cooked, succulent and really quite good.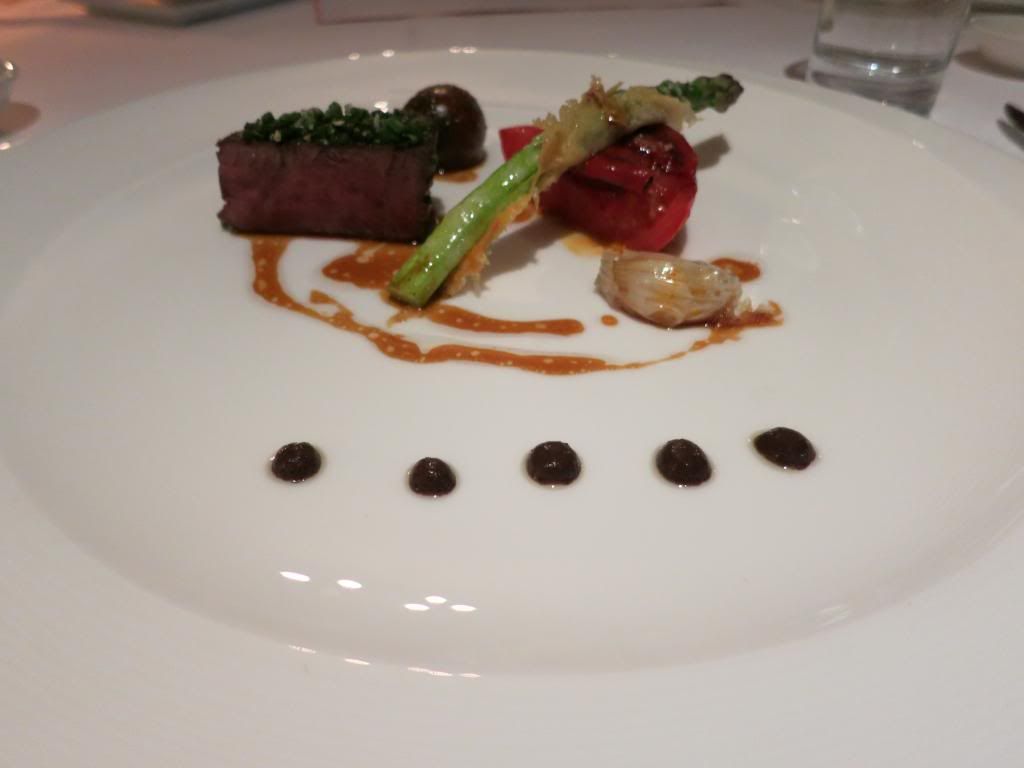 As you all know, I'm a dessert person and this dessert really spoke to me (ok yeah, that sounds lame, but it did!). It was all the flavours I loved, light, zesty, and I personally think this would have been a perfect way to end the meal. Strawberry soup, basil sorbet, panna cotta.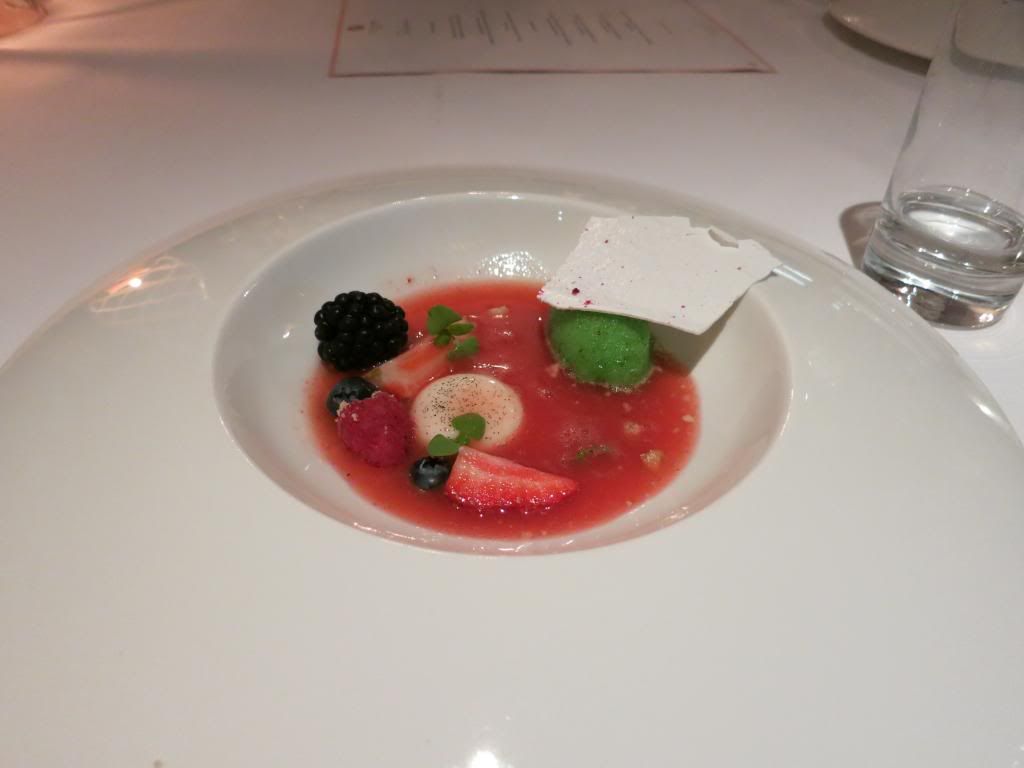 Except that it wasn't the last dish! It was instead this quite...heavy and sweet pain perdu with pedro ximinez and rhubarb compote. To be honest, I'm not a big rhubarb fan, but also by this stage I wasn't sure I could fit much more in because I was so full!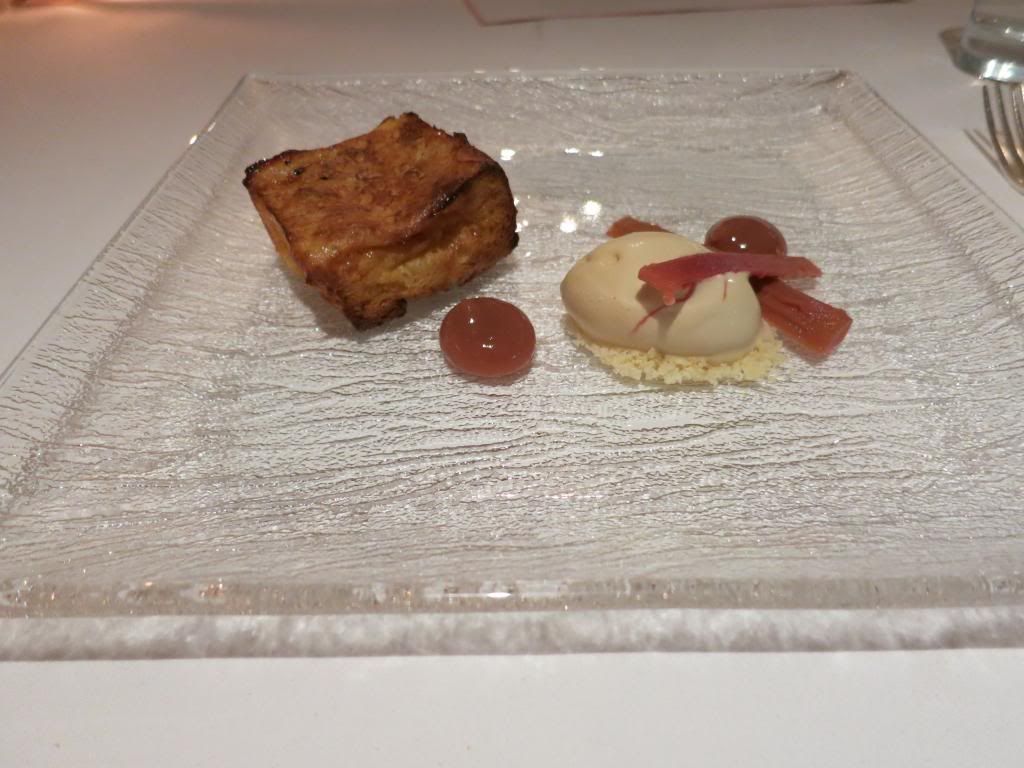 So all in all, the food was OK but definitely needed some finetuning. It felt like the menu and dishes were 'trying too hard' in that they were trying to show masterful techniques and flavour matchings however some were just a little bit off in terms of balance, seasoning and understanding the concept of less is more! I do have to say the service was OK as well, not amazing, given we had to wait to get the attention of a waiter before our water was refilled towards the end of the meal. Not something you should be doing at any restaurant!
Will I go back? Probably not. Would I have gone if I didn't have a voucher? Again, probably not. But it was good to try somewhere different for a change!